Special Order Workflow
GardenBiz supports the sale of garden and landscape items not currently in stock.  You can mark an item as a special item for further review, add it directly to a draft PO or create a new PO.  When the special item is received from the vendor, GardenBiz alerts the user that the item is attached to a customer order, so that the customer can be contacted and the item can be set aside for pick-up or shipment.
Customer-based Pricing
You have the ability to assign customers to a pricing group (such as landscapers or wholesalers), making the customer eligible for special customer-based pricing and discounts. Prices are adjusted automatically at the register when a customer record with a special pricing group is attached.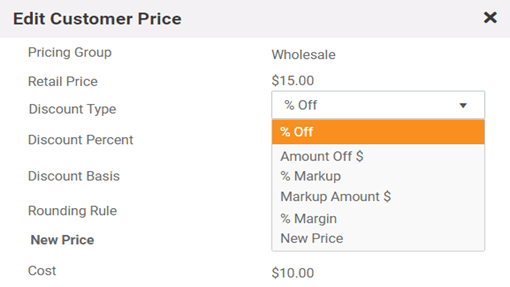 Style-Focused Filtered Product Search
There are multiple ways to search for products and add them to a transaction. In addition to scanning barcodes and entering a SKU or product name into the top product search bar, GardenBiz features an advanced filtered search.  This feature allows you to search by name, SKU, style and filter results by category, vendors, brand, color, size or other attribute.
Landscape Services/Work Order Management
Manage your in-store service department with GardenBiz.  You can check in a customer owned item, add items and services, assign to an employee and collect a deposit with ease.
Send Delivery Schedule to Google Maps
The delivery management view allows you to filter delivery orders by order status, order date, due date, assigned employee and store.  You can then select and send the addresses of delivery orders to Google Maps with one click.  From Google Maps, you can arrange the sequence of the deliveries to optimize routing and then either print the routing map or email or text the directions to your phone, where the routing is displayed in Google Maps on your phone.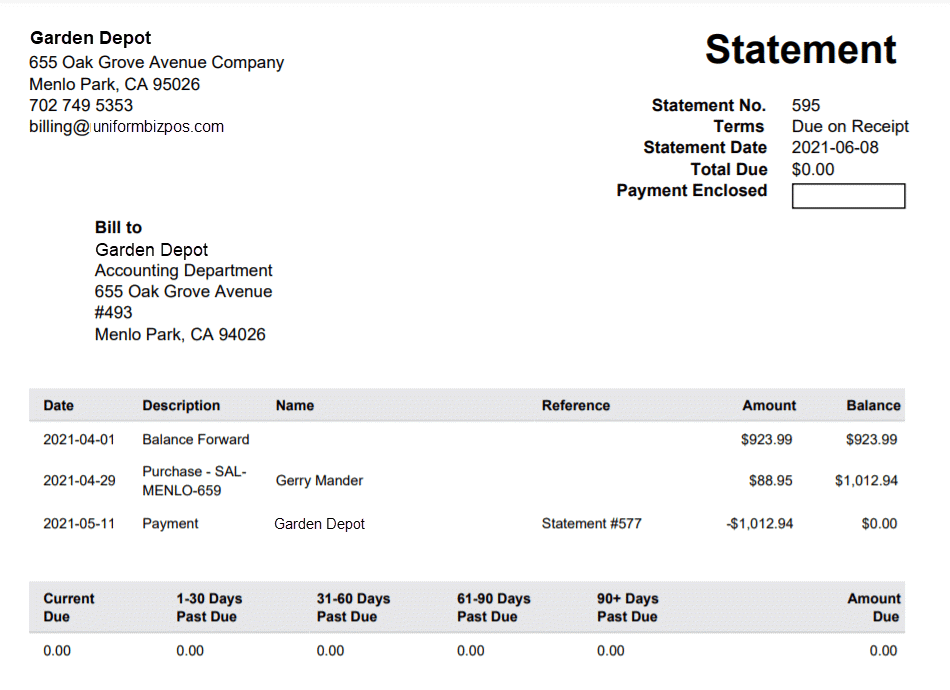 Credit Accounts/Accounts Receivable
Offer and manage credit accounts to customers, including defining authorized users, setting credit limits and payment terms and the display of current balance and available credit. Credit account records display all charges to the account, payments on balances and authorized user activity.
Customer Purchase History
View customer sales history from the front register.  Sales history can be viewed by register transactions and customer orders.  The item view allows you to view the individual items purchased by the customer attached to the transaction.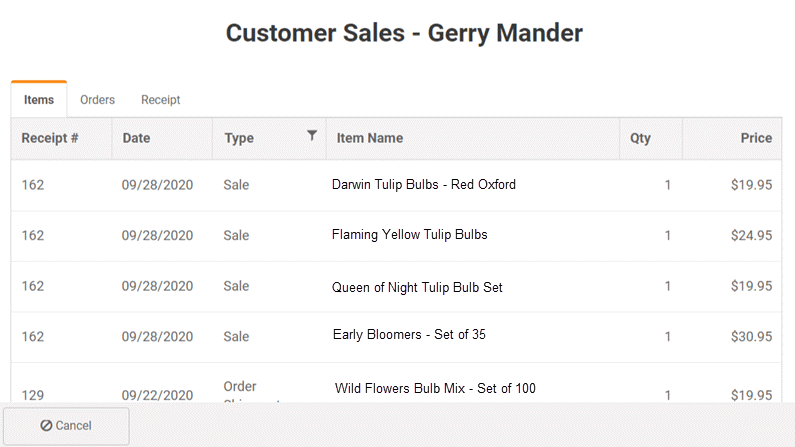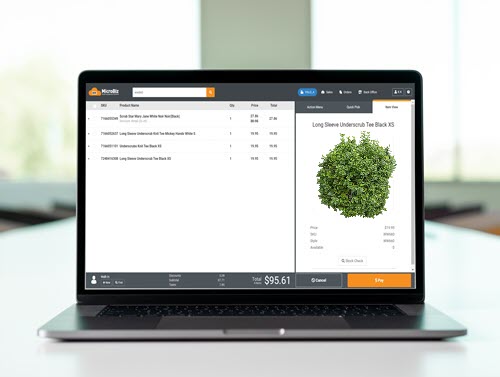 Instant Mobile POS Store
The cloud-based design of GardenBiz allows it to be easily used with a standard laptop, Chromebook notebook or table as a mobile POS terminal.  No installation of software, downloading of products or special set-up required.  Just log into your GardenBiz store from a customer site or pop-up store and you can start ringing up sales.
Weatherproof Barcode Price Labels

GardenBiz supports multiple price tag formats, including weatherproof tags with barcodes when using the Zenbra ZD420 printer.  Price tags can be printed automatically as part of the receiving process, or you can manually reprint tags for price changes.  In addition, you can add labels to a queue so that they can be batch printed later.
Sell by weight or fractional quantities

Product settings allow you to sell items by incremental quantities, which is helpful when selling items by weight, height or length (such as landscaping supplies).
Layaways and Phone Orders

Use the Orders in Progress capabilities in GardenBiz to manage layaways and phone orders. You can add an item to an order, attach a customer record, take full payment or collect a deposit and set an expected pick-up date. You can set rules for minimum deposits. Items attached to a layaway or phone order are taken out of 'open stock' and classified as 'committed stock'. You can also attach notes to the layaway order.
Add or Update Product Records via CSV Imports

The data import tools in GardenBiz allow you to load all types of data from your existing POS system when switching to GardenBiz.  You can import your products, customers and inventory levels from your existing point-of-sale by uploading a CSV or Excel file. You are able to import simple products, matrix products and non-inventory products.
Auto Stock Replenishment

GardenBiz can automate your ordering process by allowing you to define targeted reorder points and restock levels for products.  Additionally, you can 'autofill' backordered items automatically to a vendor's purchase order.
Create POs & Receive Vendor Shipments

Generate POs quickly and easily, including copying an existing PO to speed the process.  When receiving goods, simply convert the PO to a shipment document, check for variances, and click on the 'accept' button.  The system will add them to inventory. Or you can receive goods without a PO. 
What to learn more how GardenBiz will simplify your business?
Online one-on-one demos are a great way to ask questions about your unique needs and work flows to see if GardenBiz will be able to meet these needs.
Would You Like To Discuss Starting Up with GardenBiz?
Give us a call at 650 830-5123 or fill out a request form using the button to the right.