To extend the functionality of GardenBiz POS, we currently support the following integrations with leading 3rd party applications and services.

Operate an ecommerce site with the WooCommerce ecommerce platform
The WooCommerce interface with GardenBiz POS syncs inventory between your point of sale system and the WooCommerce ecommerce platform, helping you to manage inventory across your stores and online operations.   Immediately after a transaction either online or in a store, the inventory syncs – minimizing the potential of the sale of an item online that is no longer in stock.
Launch Your Woo! Store with Garden Data

When setting-up a new ecommerce site, GardenBiz gives you the option to transfer your existing product records from GardenBiz to WooCommerce.   GardenBiz syncs the main product record fields to WooCommerce (SKU, short description, price, default image) – saving you time and money launching your online shopping site. 
Syncronization of Inventory with WooCommerce

GardenBiz seamlessly synchronizes changes in inventory between your store system and your ecommerce store to reflect sales activity.  The syncing of inventory occurs almost immediately after a transaction, minimizing the potential of 'stock outs' or the sale of an item online that is no longer available or in stock.   
Capture Online Sales in GardenBiz

When an item is sold online, a customer order record is automatically created in GardenBiz, including the items sold, price, taxes, payments and customer data.  The default store inventory is adjusted for the online sale.
Support 'Buy Online and Pick-up in Store'

The integration with WooCommerce allows GardenBiz captures the fulfilment method requested by the online customer in the ecommerce record created in GardenBiz.  This information can then be used to manage the fulfilment of the order in GardenBiz.

Publish your POS daily batch data to QuickBooks Online
MicroBiz has a direct API integration with QuickBooks Online, the #1 cloud-based financial accounting software for small businesses, to automate your financial reporting. Financial information from your MicroBiz Cloud POS system is sent seamlessly to QuickBooks Online with a press of a button. No more downloading and uploading of files, faxing or emailing spreadsheets or manually reconciling financial data between your retail system and accounting software.
Get Up And Running in Minutes

Connecting GardenBiz POS and QuickBooks is very easy and just takes a couple of minutes to set-up. First, sign into both accounts and authorize the two applications to connect and share data online. Next, use the set-up wizard in GardenBiz to map your the financial activities in MicroBiz to the appropriate GL account in QuickBooks. Its that easy!  
Map POS Data to QuickBooks GL Accounts

GardenBiz includes a mapping engine that links your store data to your GL accounts in QuickBooks. You can map and sync a variety of sales accounts (sales and cost of goods sold by category, cash in/out), inventory, customer liabilities (order deposits, store credits, gift cards), payment methods (cash, check, credit card, etc.) and sales taxes (by location and jurisdiction).
Publish Financials QuickBooks with One Touch

When you close your register batch at the end of the day, just press the green 'Post" to QuickBooks button, and your financial information is automatically sent to QuickBooks through a direct connection.
Track and Pay Sales Taxes from QuickBooks

When you publish financial data to QuickBooks, the sales tax data appears in the QuickBooks Sales Tax Center. This allows you to track and pay sales taxes directly from QuickBooks Online.
Integrate your Payment Terminals
Save time and be more secure with semi-integrated payment processing with GardenBiz POS. We offer the following preferred semi-integrated payment options:
WorldPay, is one of the largest U.S. core payment processors.  WorldPay offers integrated EMV payment processing. To learn more, click here.
Supported EMV Terminals
GardenBiz POS supports the following payment terminals for semi-integrated EMV processing:
Dejavoo Z6
The Dejavoo Z6 supports contactless, e-signature, magnetic stripe, chip & signature and chip & pin. Features a built-in 3.5" color, pin pad, magnetic stripe reader and chip card reader. PCI PTS v3.x Certified.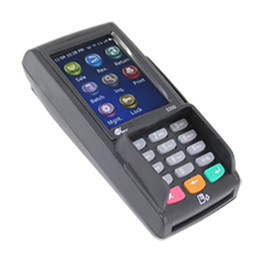 PAX S300
The PAX S300 supports contactless, e-signature, magnetic stripe, chip & signature and chip & pin. Features a NFC contactless reader large color touch screen, loudspeaker, 32 – bit ARM11 processor pin pad, magnetic stripe reader and chip card reader. PCI PTS 3.x and SRED certification.
See GardenBiz in Action
Online one-on-one demos are a great way to ask questions about your unique needs and work flows to see if GardenBiz will be able to meet these needs.
Interested in Starting Up with GardenBiz?
Give us a call at 650 830-5123 or fill out a request form using the button to the right.